Of the three marches, this one had the best weather. A bit nippy, but bright sunshine greeted us as we gathered in the old Kroger parking lot.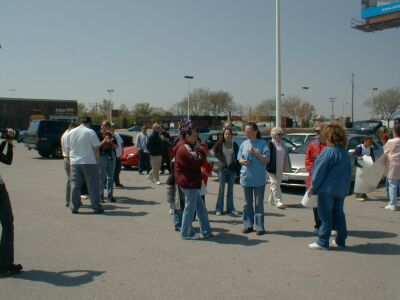 About 11:30, we got a surprise visit from New Rome Police's Sgt. Carmony which would set the tone for the rest of the day. Carmony pulled up and told Jim what the "rules" for the day would be. He said that New Rome requires a permit for a march but they haven't enforced it in the past and weren't going to require it today.
The second admonishment was our march could not leave Broad St. We were not to "go back into the village" or up to "village hall."
Sarge drove away, alerting his dispatcher that "Mr. Bussey had been advised of the rules". Jim and the rest of the marchers were flabbergasted by the development, but we continued to get ready to march!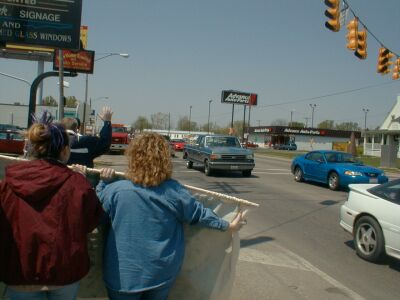 About 40 marchers turned out, the same as last time. We got started a little late and headed into New Rome from the east, on the south side of Broad St. Laura had composed four songs that we sang as we marched up Route 40.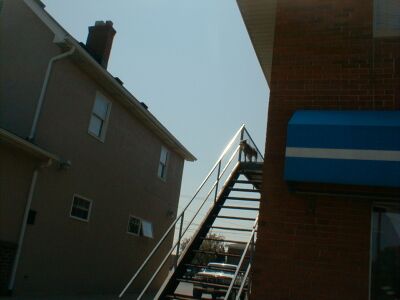 We found the vicious paper-eating dog that David Tisler warned us about!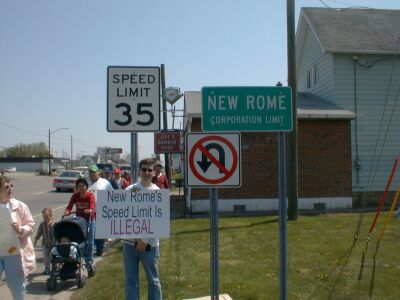 At New Rome's western edge we paused to soak up the chorus of horns honking from all the passing cars, trucks and even the occasional Columbus Rescue Squad.
We turned back into town and stopped at Ed Anthony's barbershop where George's Coney Island was setup with free hotdogs and drinks for everyone! Thanks Mike, we really appreciate it!
Now, things are about to get interesting....